Security
My sites were all down this morning. This site, www.chrismendlatech.com was getting a flood of overseas traffic.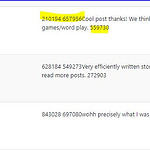 Once a new blog becomes visible, you will start to get comments. Comments are good, unless they are comment spam. If you don't get a handle on it immediately, you will  rapidly lose search engine ratings and/or be infested with  useless or damaging  comments.  Continue reading →
The days of building static websites are long gone. Today's websites need a lot more care and constant attention.
I build websites using Joomla, however the principle is the same regardless of the platform: WordPress, Drupal etc.   Today's platforms are applications that need to be updated for functionality but more importantly, for security.   Hackers are constantly trying to find security holes that would allow them to take over a site.  See my discussion on Pharma Hacks for details on the hacker mindset. Continue reading →
I'm getting more requests from site owners to embed youtube videos.
I came across a post on LinkedIn.com   that mentioned a serious backdoor in a joomla youtube embedder plugin. Continue reading →