SEO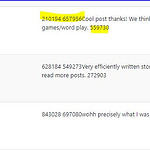 Once a new blog becomes visible, you will start to get comments. Comments are good, unless they are comment spam. If you don't get a handle on it immediately, you will  rapidly lose search engine ratings and/or be infested with  useless or damaging  comments.  Continue reading →
An important aspect of SEO is to carefully manage your 'link juice'. That is the amount of 'goodness' or page rank that flows between sites based on links.
The general consensus is that you want to be extremely careful with linking to other sites. Otherwise the 'goodness' of your site will leak to the other sites. You definitely WANT to add the nofollow attribute to any paid links or if you have any suspicion about the reputation of the site you are linking to. Continue reading →
I have been changing the sitemap generator for my Joomla sites from XMap to OSMap.
Several of the SEO tools were complaining that they could not find sitemap.xml.
One way to rectify this would be to include a sitemap line in the robots,txt file such as Continue reading →
The deadline is rapidly approaching for Google's algo change that puts a heavy weight on a site's mobile readiness.
I have a Joomla 3.4.1 site that, according to Google Mobile Readiness Tool, wasn't mobile ready.   The tool complained about resources being blocked in Robots.txt. The default robots.txt for Joomla blocks the media folder. The tool said it needed access to the media folder. Continue reading →
If you have a Joomla site running XMap, you should consider replacing it with OSMap.  XMap/OSMap is an extension that creates a sitemap of your site. These sitemaps are used by search  engines such as Google and Bing to list all of the pages of your site.  If you don't have a site map and have it registered with at least Google and Bing Webmaster Tools, you should do so as soon as possible. Continue reading →
Google's Webmaster tools has some neat new sections. One of them is a diagnostic called Content Analysis . It will show problems that can kill your rankings such as duplication in titles or descriptions.
We have a couple of blogs. Some of them are hosted at blogger and some we host. The first blog we checked that was hosted at blogger (though with a custom domain) was fine. No content issues were found. Great. Continue reading →