Check broadband availability before moving your home or office.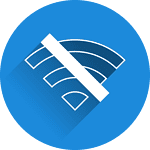 Moving into a new office on a long term lease and finding out that you cannot get high speed internet could result in a disaster. We are becoming increasingly dependent on reliable, affordable high speed internet access.
There are a surprising number of office buildings and even homes that cannot get broadband. One might expect this in a rural area but not in an urban or suburban area.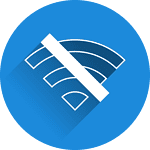 I ran into a situation where a business owner was leasing space in an office building in lower Bucks County. He was using DSL with an appalling .8MB up and .3MB down. That is POINT 8, and POINT 3 not 8/3. He had been told that 'the building was unservicable' Neither Verizon Fios nor Comcast could provide service. Comcast agreed to do a site survey.
I took a look at the building and I think I see the problem. Verizon and Comcast almost certainly have service on that street. However, the front of the building is paved property line to property line. There are no utilities in the rear as that backs up to a parking lot for a shopping center. Also, the utilities are underground and there are no utility poles in the area.
In order to provide Comcast or Fios, it would be necessary to dig a trench from the street to the building through newly laid asphalt. The building owner stated emphatically that they would not allow that.
There is a possibility that Comcast will find a way to deliver service but I doubt it. The alternatives are Dishnet or Wifi access. With a 2 person office, it is possible that they can keep the bandwidth at a level that will not result in absurd wireless bills. Note that Wifi or dish might not be available. For example, surrounding buildings could block signals.
Do not depend on online 'availability' from providers. That is not always reliable. Get it in writing from the provider. Even at that there have been cases where the provider can't deliver the promised service.
The moral of the story is that you need to verify the availability of broadband before you purchase or sign a lease. Don't just take the provider's word that service could be available. Make sure that you write into the contract that if you cannot get service (and specify a cap on hookup costs) that the lease/sale will not be valid.
This article was originally published in 2015. The proliferation of internet connected devices has grown exponentially since then. Security systems, cameras, point of sale, HVAC controls and more require a high speed internet connection. In addition, the availability of bandwidth for most people has led to websites requiring much more bandwidth than they required just a few years ago.
Similar Posts: