Tag people in your Google Photos and find them in other photos.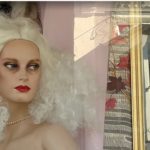 Last Updated on
You can easily tag people or pets in Google Photos which then allows you to search and group photos by people.
Go to your Google photos account.  Go to a photo with people that you wish to tag.  In this example I'm using a Mannequin that was in a shop window in New Hope, Pa. The mannequin won't get upset about using her image… I hope. 
Tagging People
Go to an image with faces in Google Photos. Click the information icon (an i in a circle)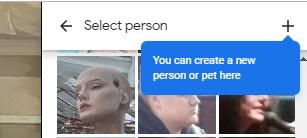 If there are any images available for tagging, you will see a message such as "One face available for tagging" on the right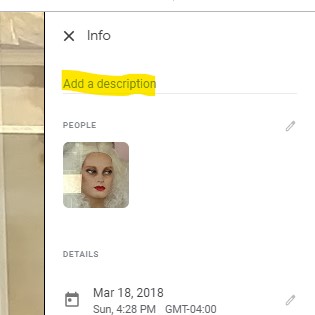 Click on "One face available to add" Then click the +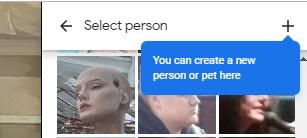 When you click "Done", you will have a chance to add a name or description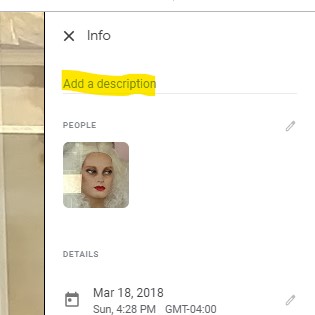 You can search for people by going to the photos search bar and clicking on a thumbnail or typing in the name that you tagged that person with. 
Notes
Because of the way I manage my workflows and due to limited space on my phone, I move older Google Photo Posts to my local drive which is automatically backed up to the cloud. This does tend to diminish the usefulness of this tool a little. However, If I tag someone and new photos were added it will make finding those photos easier.
In my humble opinion, the user interface is a bit convoluted. This guide is based on desktop use.
If you have the Google Photos app on a phone, you should be able to go to a picture and click the three dots in the top right. It will show you if any faces are recognized. You can tag them at that point.
This type of recognition is similar to the technology that allows you to search by using an image in Google.
Summary
The ability to tag people in Google Photos provides a great tool for finding people in your photos. HOWEVER, it is also extremely creepy. The level and ability of the facial recognition makes me a bit uneasy. It even identified someone even though they were wearing a huge pair of joke sunglasses.
Similar Posts: