Opening multiple WordPress admin windows for sites on a shared host results in high CPU usage.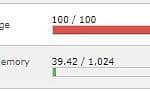 I have a few sites that I am trying to grow on a shared host. I noticed that when I open admin windows for about five of the sites, the CPU maxes out.
I sometimes find the need to have WordPress admin windows open for several sites on the same host. For example, If I want to check the plugins that are installed to make sure I have all the plugins I want on all the sites. Another example would be to look at the settings for a particular plugin on one site and apply those to other sites.
There is a definite correlation between the number of open WordPress admin windows and CPU Usage. As soon as I open a couple of admin panels, the CPU usage as shown in my cPanel goes to 100 percent. There could be a number of factors influencing this:
The configuration of your hosting, especially CPU and Ram provided by your hosting company.
The plugins that are active on the WordPress sites.
Summary:
As soon as traffic increases, I will outgrow my current hosting plan
I don't want to add any more sites to this shared hosting (I was not planning to)
I have to look at caching. I'm not sure if that will reduce CPU load or not.
I need to make a note to close the admin windows when I'm done with them.
Similar Posts: