Have Google do a quick security check on your Google account with the Google Security Check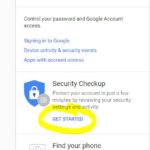 A person's Google account is becoming increasingly important. Google offers a quick security check for your account that takes about 3 minutes to complete.
The first step is to go to myaccount.google.com (Note this is NOT a link. You should NEVER follow a link from any site or email to any account profile or dashboard, not even once).
If you don't want to type in the link above, you can go to any Google page such as www.google.com. If you are logged on to Google, you should see an icon at the top right of your page. If you added a profile photo, you will see the photo. Click on that and then choose "My Account"
Look on the page for "Security Checkup" and click "Get Started". You will see some indicators of your security status:
Your Devices – This will show the devices that have accessed your Google account highlighting issues such as no screen lock and devices that have not been used for a while.
Third Party Access – In some cases, you will give third party applications certain access to your google account. An example would be Glassdoor.com. You can give Glassdoor.com access to your google drive to facilitate access to your resumes for job searches. If you no longer need to provide access to a site, you can revoke that access.
Recent Security Activity – Any security related events that occurred with your account.
Verification methods – You should have alternate emails and phone numbers set as backup verification methods.

Do NOT use a work email
Do NOT use a question that anyone can guess or research
While you are at it, consider
Enabling a dead man's switch that will allow access to your google account to someone you trust if you fail to sign in for three months.
Running Google takeout periodically to save information from your various Google tools.
Similar Posts: