Check your Ninja Forms forms for browser autocomplete functionality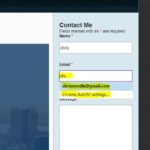 Last Updated on
I was working on a landing page for this site. I noticed that the browser autocomplete functionality was not working for the Ninja Forms contact form. At first I thought it was a conflict with the landing page plugin. However, it appears to be an issue with settings in Ninja Forms. This can have a serious negative impact as far as visitor conversions.
I was filling out a simple Ninja Forms contact form on my site. It consists of name, email and message. When I typed in chri for the beginning of my email, the browser autocomplete showed my email as I would expect. However, trying to select my email to autocomplete the form did not work. I tried this on another site that uses Ninja forms with the same result.
Having forms with the browser autocomplete off will almost certainly cost you conversions, especially with mobile users.
I put a support ticket in at the Ninja forms site. (Free version). I also checked their github repo and found two prior issues, #231 and #2171. Both of these appeared to ask for the ability to turn the browser autocomplete off. I submitted #3428 requesting the ability to turn it on. I noticed the same behavior when I submitted the trouble ticket on the Ninja Forms site.
It doesn't matter if you are using a Funnel or just a plain contact form on your site. Users will get annoyed when they have to type in their full email, especially when on mobile devices.
I'll see what happens with the ticket but if the issue can't be resolved, I'll have to switch to another forms plugin at least until the issue is resolved. There is a possibility that there is an ability to turn browser autocomplete on but I could not find it anywhere.
Similar Posts:
5 Responses to Check your Ninja Forms forms for browser autocomplete functionality
Pingback: A basic set or WordPress Plugins, mostly free. - Chris Mendla Tech