Craigslist is now charging fees for Services ads as of March 15 2018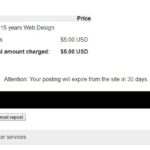 I went to repost an ad for Website development and found that Craigslist is now charging $5 for that ad. I was getting decent responses to the couple of ads that I had running. Here are what I think are some of the implications of that change and how my plans will adapt.
As a business owner trying to gain a critical mass of clients, the free services ads on Craigslist were a great way of advertising. You could post almost any type of ad for services at no cost. This produced a fair amount of incoming business for Joomla, WordPress, Ruby on Rails and other consulting. When I went to repost an ad on March 27, I saw that it required a $5 fee.
While I'm not happy about paying $5 for 30 days, that is still a reasonable cost. The revenue from one new client offsets that cost by a wide margin.
Implications/response:
The fees will probably serve to greatly improve the signal to noise ratio.
I was previously running individual ads specifically for Joomla, WordPress, Networking, Ruby on Rails and SEO. My plan is to combine those into one ad for web development.
My previous ads were simple HTML with bold, headers and bullets. The new ad(s) will make more use of CSS to stand out a bit.
At this point, we are a little over 10 days into the new model. I'm going to wait about a week before reposting. That gives me time to redo the ads. Also, I can evaluate if the new fees have had an impact on the quantity and quality of the services ads.
With the current rules of Craigslist, it is possible that you could pay the fee to post an ad and then have someone maliciously report the ad. That is not a current problem but it bears watching.
If I gain one client per posting, the Return on Investment is terrific. Even gaining one client for every 5 postings would work.
The new Craigslist fees for service ads might improve the signal to noise ratio for services ads.
Similar Posts: