Is your site on HTTPs yet? Chrome will warn users who visit http sites.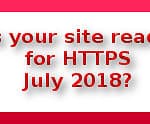 Beginning in July 2018, user who browse with Chrome will receive a warning before visiting http sites. If your site is on http, now is the time to migrate it to https.
Https means that a site certificate was issued by a certificate authority. This gives visitors confidence that the site is legitimate and that data from their browser to the site is encrypted. NOTE, there is nothing that says a site has to keep the data encrypted after receiving it.
If your site does not support https you need to act NOW!
According to the Googleblog, as of July 2018, visitors to sites still on http will see a "Not Secure" indicator
In addition to the security warning, Google will penalize the search engine standing of http sites. Https vs http is already used as a ranking factor.
The process:
You need to purchase an SSL Certificate for your site. These range from $5 per to several hundred dollars per year. Certificates come in different levels and the pricing varies greatly depending on where you purchase it. A simple blog with nothing more than a contact form can probably go with a very inexpensive basic certificate. One a site starts storing sensitive information or deals in eCommerce, the certificate requirements increase.
The general outline for converting to SSL is:
BACK UP YOUR SITE AND DATA – Installing a certificate could break your site.
Determine when you will do the installation. For low traffic sites, this is not an issue. With high traffic sites, you need to find the time with the lowest traffic and have a fallback/recovery plan.
Determine what level of certificate you require.
Check your hosting to see if they provide certificates and if they allow you to install your own certificate.
Purchase the certificate.
Install the certificate and check that https is working as expected.
Add any necessary plugins or modify the .htaccess files to ensure that all traffic is on HTTPS. There are plugins available for WordPress and Joomla. Other platforms will have their own requirements.
TEST, TEST and TEST AGAIN. Go through the site thoroughly. There may be issues with third party plugins or pages that incorporate unsecure content. Test the site on desktops and phones.
In order to set up HTTPS, you need an in depth knowledge of cPanel and FTP.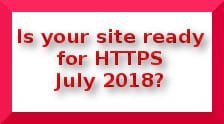 Fill out the form below for a free, no obligation, quote to move your site from http to https.
Similar Posts: