WordPress 5.2 update hangs on Unpacking the update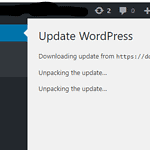 When updating a site, you may run into a situation where WordPress 5.2 update hangs on 'Unpacking the update.
Update 9/13/19
This unpacking on update problem persisted. I found another solution that involved using Softactulous in Cpanel. I was a little leery of moving my apps to Softaculous but the migration for five apps was easy and flawless.
Once the sites were managed by Softaculous, I can update an installation with one click. I also use Softactulous for backups of my sites after having issues with the BackUpWordPress plugin.
I have not found any negative issues with Softaculous. However, caution dictates keeping a good set of site backups. If Softaculous is installed on your hosting, you should see it under Software in Cpanel. If not, check with your hosting company.

Once you get into Softaculous, you will see the number of outdated installations. You can update them by clicking that button. BACK UP YOUR SITE.

Original post:
This seems to be happening to a number of users. One suggestion was to increase the maximum execution time from 30 to 60 seconds in the php.ini file. I tried that and it didn't work.
I did see that there was a possibility of doing a manual update. My thought is that this is a known issue affecting a large number of users so I'll just wait for the next release of WordPress.
If you encounter a screen like the one below where it is stuck on "Unpacking the update" leaving the page SHOULD be OK. You do have your site backed up? right?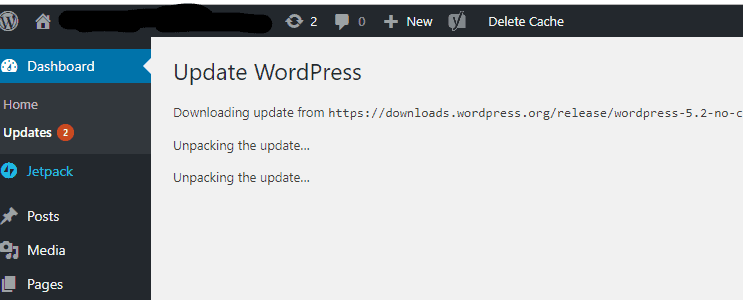 I always try updates on a non critical site first especially when updating WordPress. I have a specific site for that.
Keep an eye on the WordPress releases to see when a follow on release is published
Summary:
The issue of 'WordPress 5.2 update hangs on 'Unpacking the update' is a known issue affecting a number of users and sites.
Unless you have an urgent need to update, wait a bit to see if this is resolved in the next release.
If the next release of WordPress doesn't resolve the issue, then you will need to troubleshoot.
UPDATE – Softaculous is a good alternative to managing your WordPress installations
Similar Posts: