Buffer for Social Media postings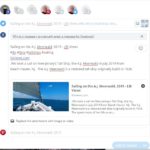 Last Updated on
I looked at the various alternatives for Social Media Management for WordPress sites. The WordPress plugins were either overly difficult to configure or expensive. Buffer offers a reasonably priced alternative to manage social media posting.
There are a number of factors to consider when choosing how you will post to social media.
Alternatives
I have four WordPress sites that I want to grow. Three of them have content that is pretty much 'evergreen'. In other words, it would pay to repost that content periodically on social media.
One means of social media posting management is to use a WordPress plugin. Many of these require that you have a Facebook application for posting to Facebook. While I am familiar with the overall concept I found it a bit difficult to get it working properly.
There are several online tools that will allow you to schedule social media posts. I went with Buffer's $15/month plan. There are some limitations but it seems to be the best in terms of cost, ease of setup and use as well as efficiency.
Cost
If you are incubating sites you don't want to spend a lot of money unnecessarily. You can spend nothing by simply manually posting to social media. That would be tedious at best and would require you to post at exactly when you want the articles posted.
Many of the WordPress plugins had a per site license. That adds up quickly.
The least expensive Pro plan from Buffer is $15/month. That gives you 8 social accounts, 100 scheduled posts per social account and 1 user. $15 for four sites seems reasonable.
Ease of use
Almost all WordPress plugins, as mentioned above, require that you set up a Facebook Application. This, to me, is a tricky and frustrating process.
Buffer simply requires that you authorize the app to work with your social accounts.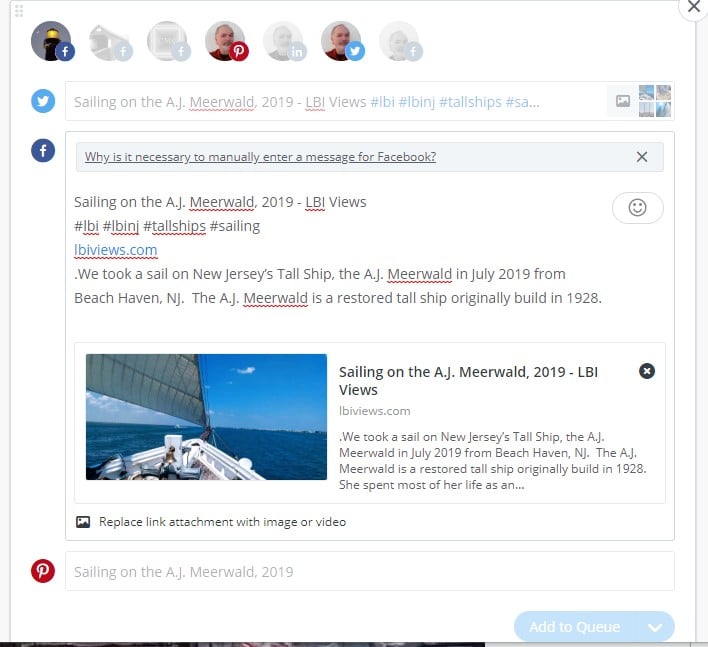 Efficiency
The user interface is easy to learn. The dashboard shows you which posts are scheduled. It also allows you to decide how often, and when, posts are scheduled for each social media account.
I use Sassy Social Share on my sites. This provides icons for users to share. I include the buffer icon which easily allows me to share posts. I also added the buffer tool to my chrome browser as an alternative means of scheduling to Buffer.
The net result is that I can easily schedule social media posts for a new blog post or I can schedule older posts.
Setup
The $15 plan allows 8 user accounts. I have four sites that I want to promote. I needed to make some minor compromises in the setup.
Facebook
Under my personal Facebook account, I set up four pages, one for each site. I used one of my 8 social media accounts for each of the four pages.
PRO TIP – If you are using your personal Facebook account to promote your business you want to be VERY careful with what you post, or have posted on Facebook. You don't want to find that the Facebook goons have banned you for 30 days for a post you made 2 years ago.
When you click the buffer icon on your site or browser, you will see all of the Facebook accounts that you have. You will need to 'unclick' all but the page that applies to a particular post.
Also, Facebook does not automatically populate the text for the Facebook page. You need to do that manually. I usually set the snippet using Yoast. I take that text and paste it into the Facebook description.
I usually add some hashtags such as #wordpress #SEO or whatever applies.
If you have your Buffer account configured, it will use the link shortener that you specified.
Buffer will only schedule posts to pages, not your personal feed. (At least as far as I can tell). For most content I post it manually to my personal feed so all 4 of my friends can see it.
Pinterest
You only need to use one of your allotted Buffer accounts for Pinterest. When you are scheduling your post, you can choose which Pinterest board to use.
You can either set up Pinterest boards based on your sites, or you can set the boards up by topic. For example, if you have two location based sites, you can set up a Pinterest board for each site. Alternatively, you could set up a 'dining' board.
Twitter
It becomes more difficult to figure out the Twitter rules over time. Currently I only have one Twitter account. I have two location/destination/local sites, one very general anything-goes site and this tech site.
You want to gain followers on Twitter. If you are posting on three different topics that probably is not the best way of doing things. "I followed this guy because he posted about restaurants in our area and now I'm seeing Tweets about nostalgia and skee ball machines".
The websites are a sideline at this point so I am willing to accept the fact that my Twitter feed seems to have multiple personalities.
The Twitter feed is using one more of my 8 allocated social media accounts.
Linkedin
I have debated the wisdom of posting to Linkedin. I don't think Linkedin will ever unleash floods of visitors to your sites. However, it can drive some quality traffic.
I use the LinkedIn account for tech posts from my tech blog and an occasional career oriented post from my general blog.
PRO TIP – Be VERY careful what you post to LinkedIn. If you are in the job market one of the first things recruiters look at is your LinkedIn profile.
Tips and tricks
Set your Snippet and featured image
Use Yoast to set the snippet for your WordPress post. Buffer and the Social media sites will use this text.
Set a featured image. This makes it easier for Facebook and other sites to pull the image
Understand Facebook scraping
Facebook needs to scrape the WordPress post for the snippet and image. I have found that the Facebook text and data is almost never populated on the first try. I usually have to close the buffer window and try again. You might want to wait about 10-15 seconds in between.
If you are experiencing issues getting the image and text to show, try Facebook's sharing debugger. This tool will force Facebook to scrape your page. You can retry a couple of times if you aren't seeing the image and text that you expect.
As I mentioned above, I will post most of my blog entries to my personal Facebook feed. In many cases, the post does not scrape properly. This is true even if the buffer posts to my pages worked. In that case, I go back into my feed, select the dropdown for the Facebook post and select 'refresh shared content'.
Double check
When you are done with scheduling things in Buffer, go to the scheduled posts in your Buffer Dashboard. Take a quick look to make sure that you didn't accidentally schedule a post to the wrong social media account.
Keep your queue full
This is a bit tricky. You are paying for the service. It takes some discipline to keep the queues full.
Reuse old content
You can take some time to go through your old posts and reschedule content that hasn't been posted to social media for a while. Use your judgement as some platforms such as Twitter have rules about duplicate content.
Reduce your posting schedule.
If you don't have a lot of posts to schedule, try reducing your posting schedule. If you scheduled one of your Facebook pages to post three times a day seven days a week, you can cut that down to perhaps one day a week. That will keep a steady flow of posts to your social media subscribers/followers.
If you want to build a following on Facebook, Twitter or any other platform, consider that there is no rule that everything you post has to be your content. For example, if you have a location site and you see a posting for a charity, consider adding that to your Buffer. The key question is "Will this be of value to my social medial followers?"
Retweet / Post content from others.
SUMMARY – The Pro Plan is definitely meeting my expectations for now. It is easy to use and the cost is reasonable.
Similar Posts: