Fitbit Charge 3 Weather SOLVED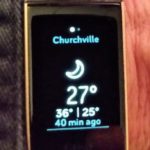 Last Updated on
My Fitbit Charge 3 was not showing the Weather. This issues is SOLVED.
The Fitbit Charge 3 was not showing the Weather app.
I wanted to show the weather on my Fitbit Charge 3. Instead of the weather, I got "Please sync with your phone" on the Charge 3. When I went to the Fitbit app and tried to adjust the settings for the Weather App, all I got was a blank white screen. I tried several methods to resolve the issue. A search of the Fitbit Community site did not lead to a resolution.
How to get the weather app to show.
After trying the suggestions in the community forum, I took an educated guess as to the problem. I was running out of storage space on my Moto G7 Play and added an SD card. Internal storage on an Android device is limited. In order to conserve the internal storage, I moved any apps that I could t the SD card.
Unfortunately some apps misbehave when they are moved to the SD card. This was definitely the case with the Fitbit when trying to show the weather app.
Moving the Fitbit app to internal storage.
I checked in settings and the Fitbit app was using the SD card. I changed the storage to internal. Go to your settings, apps and then the Fitbit app. If it is set to SD, select "CHANGE" and set it to "Internal shared Storage"
Your Android will migrate the app to internal storage.
Be sure to enable location for the Fitbit app.
Results: The Fitbit app is now showing Weather information
Once you get things set up, you should be able to swipe left from the main screen three times until you get to "Weather". Tap the Weather Icon and you will get the current conditions plus the forecast for the next two days. You can add two additional locations and change between Fahrenheit and Celsius.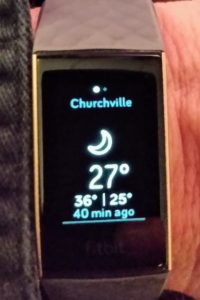 Similar Posts: