Humor
Funny stories, images and memes related to computers and technology.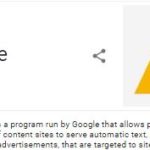 Is it me, or does the Adsense logo look like a nose??
I see a lot of posts with titles such as "10 signs your interview went well".. Ok, how about some signs that your interview is NOT going well? Continue reading →
I check some of the well known posting sites on a daily basis to look for leads for web or network jobs. What makes me roll on the floor laughing are ads like the following.  Let's take this apart one sentence at a time.
We are looking for a student who can use PHP and MySQL for our new website.