rants
Wikipedia is staging a blackout on Wednesday Jan 18 in protest of the STOP piracy act. The stop piracy act is an insane move by the coke snorting, heroin using hollywood degenerates to grab every penny then can, legitimately or otherwise.
Continue reading
A idiotic bill proposed by an idiotic senator WOULD MAKE IT A FELONY TO POST ANY VIDEO THAT CONTAINS COPYRIGHTED MATERIAL AND IS VIEWED BY MORE THAN TEN PEOPLE.
Continue reading
I haven't used the USPS.Com Click and ship for a while. I have a system that allows me to assign a unique password to each online site I use. However, the USPS idiot programmers decided that they would require at least one letter to be uppercase and one to be lower case. Somehow the password algo I use is not providing the correct password to access the site. Then I figured I would just reset the password.
Continue reading
The Washington Examiner has an article about the City of Philadelphia requiring bloggers to have a $300 business license. This is absolutely insane. Supposedly the city is so cash strapped that it is imposing onerous and expensive business licensing requirements on someone who is making a couple of bucks a year with a blog running adsense.
Continue reading
No tags for this post.
56,000
Fifty Six Thousand
That is how many pictures the Lower Merion School District snapped of students (A couple of weeks ago, they were only claiming '400 or so')… That is the trouble with our educational system, the people running it have math skills so lacking they thing that 56000 = 400.
Continue reading
No tags for this post.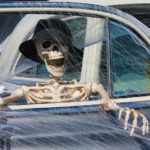 Apparently some car dealers install packages that allow them to remotely disable your car, honk the horn or do other mischief. A disgruntled employee hacked into the web based system that allows them to remotely disable a car's ignition or cause the horn to continue honking.
Continue reading
No tags for this post.
I would love to get the idiots that design the password and password reset system in a room for just five minutes..
Continue reading
I was listening to home improvement show on the radio today. The guest told customers that they could purchase his products by emailing their name address and complete credit card information including their ccv. He was using a Verizon email address.
Continue reading
Compared to the so-called "Stimulus Bill" this is a minor piece of idiocy, but idiocy nonetheless.
Continue reading
No tags for this post.