Hardware
Discussions and articles about specific computer hardware including desktops, laptops, routers, switches and printers.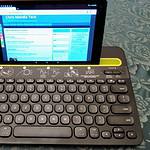 The K480 easily connects to Android, Windows, Chrome, IOS and MacOS machines to allow efficient typing on your phone or tablet. 
Continue reading
No tags for this post.
A client called and said one of their machines was down. The monitor was only coming on momentarily.. She had swapped it out with another monitor from storage with the same results –
Conclusion for both of us – The video card on the workstation was bad.
They still had a month left on the 3 year Dell warranty so I stopped over to get that process going. Continue reading →
No tags for this post.
Many people purchase a surge protector and forget about it. The problem is that surge protectors degrade over time.
Surge protectors are needed because your voltage can 'spike' which will damage equipment. The surge protectors dissipate the extra voltage. Continue reading →
No tags for this post.
I was in the middle of trying to meet some deadlines when my Windoze machine slowed down to a crawl.  I decided to take the time to apply the Windows updates and reboot.
When I rebooted the machine would not get past the HP boot screen. I did some preliminary checks like reseating  the memory chips and blowing the dust out of the unit…. I got the snow shovel out and cleaned up the dust. Continue reading →
No tags for this post.
I just purchased an HP laserjet pro 1102w wireless laser printer.  The pros are that it comes with a 700 page starter cartridge, it's wireless and it has an 'easy' network install.
HOWEVER… listen up you HP folks… Tell your moron 'programmers' that WHEN I ASK TO PRINT ONE PAGE, I  WANT ONE FREAKING PAGE.. NOT A FREAKING ENDLESS PRINT JOB..
I set the printer up for wireless printing and did the 'smart install'. That seems like a really good idea. You simply browse to the printer with your web browser and select the 'smart install' tab (ie type the ip address of the printer into your browser address bar). The printer then installs the proper software on your computer. Continue reading →
No tags for this post.
Most office copiers today have an integral hard drive. If your copier is returned or sold and the hard drive is not cleared then you are at serious risk of exposing personal and sensitive data.
The video below show just how easy it is to find sensitive information on copiers that have been resold. Continue reading →
No tags for this post.
I had a bluetooth H375. It was ok but the fit was never comfortable. The earpiece is, I think, way too fragile. It broke.
I contacted customer support and they wanted me to send it back for replacement. OK, but then I'm out of a bluetooth for a week or so. Continue reading →
No tags for this post.
I had a Belkin Mobile Power supply for about 8 months. All of a sudden, it stopped working.
What would happen was that the laptop screen would dim and the indicator lights showed that the unit was not providing power. I contacted Belkin and they shipped a replacement power supply.
When I plugged that in, I got the same exact results. IOW, it wasn't the power supply. If I plug in my OEM HP power supply, that works fine. Continue reading →
No tags for this post.
I had previously extolled the virtues of devices such as the Targus Chill Mat to keep your laptop running cooler.
However, I have been noticing that the Chill Mat's Fans seem to be changing speed. I could not find any info as to whether the Chill Mat has any kind of variable speed or thermostat control. It appears that it does not. Continue reading →
No tags for this post.
Our main desktop was getting a bit long in the tooth. My biggest fear at this point would be a hard drive failure. I've transferred most of my day to day activity to my Vista Laptop. That has been working well since I can now work downstairs. I was running out of drive space on the desktop and had been moving files to USB hard drives.
I purchased a Buffalo Linkstation 1TB Network addressable storage device. The whole thing cost a little less than $300 with shipping. The unit is about the size of a large shoebox. Continue reading →
No tags for this post.