Mobile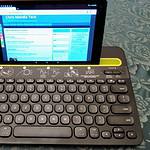 The K480 easily connects to Android, Windows, Chrome, IOS and MacOS machines to allow efficient typing on your phone or tablet. 
Continue reading
No tags for this post.
Poland is going to try a service where your phone app summons an ATM bolted into a BMW. Currently the service is only offering deposits.
The video below is in Polish but it still shows the concept in action. Continue reading →
No tags for this post.
Today's phones will drain your battery faster when they are hot. For example, if you are driving and have your phone on the console where the sun is hitting it, the battery becomes less effective. Another example would be having the phone in your shirt pocket at an outdoor event where the sun is hitting it. Continue reading →
No tags for this post.
I was doing a monthly review of a client's site. As of the end of April 2015, Google is placing a heavy emphasis on the mobile friendliness of the your site.
I checked this site at the beginning of April. It is a Joomla 3.4.x site. I had to remove the media and templates folders from robots.txt.  After doing that, Google reported that the site was mobile friendly. Continue reading →
Summer vacation time is approaching. Many of us will either take vacations or mini vacations.
For the self employed, that means that you are not at your office or home office.  You might head to the shore for a couple of days or perhaps take a trip for a stay at a resort. Will you have access to the information and resources you  need?
The key to success is to plan ahead. Continue reading →
I am still using my Samsung Galaxy S3 phone. I use Google + mainly to check shared locations of friends.  Guess which part of the phone and Google – doesn't work?  Yep, the shared locations. Ever since the last Google + update some time in March of 2015, I'm getting a Can't load data error.
Well, I can always jump over and use my Nexus 7.. Oh wait.. the Google Lollipop update screwed that tablet up to the point where I could get better results with a clay tablet and wooden stylus. Continue reading →
I use the location sharing on Google + Locations.  My Samsung Galaxy S III started giving an error of "Server problem – please try later" when I tried to update locations.
If I rebooted the phone, it seemed to give me  a fresh location but then went right back to the error.
Google + locations was working fine on my Nexus 7. Continue reading →
When you are developing websites, it is important to see how they will render on mobile devices.
There are a number of tools available to do this. Opera has a tool that will show you sites as they would appear on various devices. Continue reading →
No tags for this post.