Tools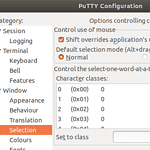 THIS was driving me batty. I have Putty running on Ubuntu which runs on an Oracle Virtualbox on a Win 10 machine. I was trying to copy and paste and getting nowhere. The solution turned out to be pretty simple
Continue reading
I was trying to get a feature of Aptana working correctly. According to context menu when working on a view, you should be able to hit CTRL + SHIFT + W to put a tag around the selected text. Once the tag shows around the text, you can change it to whatever you want: H3, LI etc.
However, when hitting the key combo, Aptana was trying to close the files. Continue reading →
I was creating a Ruby on Rails site and used Artisteer 4.3 to generate the template.
Even though I included the precompile directives in assets.rb, I was still not seeing the images for the header and some other images. I tried a rake assets:clobber / rake assets:precompile but that didn't help.
The problem was that the references in style.css to images were in the form of Continue reading →
Yes, I know.. Tables are deprecated.. However, they can be useful in certain cases.
I've always had trouble getting a table that was less than full width to center. Setting the alignment to "Center" in the table properties box (JCE)  never seemed to work.. Well, that is because artisteer works with CSS. Continue reading →
We had a bit of trouble figuring out how to modify the settings of tables in sites that use an Artisteer generated table. We use JCE as our content editor.
The solution was quite simple: Continue reading →
We use Artisteer to create templates for our Joomla projects. It does a great job overall.
We were trying to create a top menu and it was rendering as text, not as a graphical menu. Continue reading →