Windows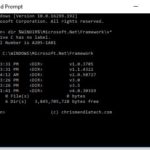 I am working with a client to find a piece of software that will meet his needs. One of the software packages requires .net 3.5 or higher. Many of the solutions required downloading software or opening the registry. I found a much simpler solution.
Continue reading
No tags for this post.
There has been a lot of speculation that the software patches to OS's to address the Meltdown, Spectre could result in a 30 percent performance decrease . The update installed on my laptop on Jan 3rd and the results are..
Continue reading
I ran into a situation where I needed to manage and work with multiple Ruby installations on Rails on a Windows System. Unfortunately RBENV and RVM do not run under windows.
Continue reading
No tags for this post.
I use UVNC to remote into my desktop while I'm not in my home office.
I have been running into situations where the uvnc_service needs to be restarted. Of course, if you aren't in front of the machine or no one is available, then you can't restart the service. This could be a problem if you need access and are away.
Continue reading
No tags for this post.
HowToGeek published and article that made me rethink Windows 10. My original objection to Windows 10 was that the home version would force updates with no opt out option. The article states that the update process would be 'like chrome'. In other words, the updates would not be the same as the current Windows update process. That might mean that the update process isn't as much of a roadblock as I originally thought.
Continue reading
Microsoft has announce that it will be ending support for Server 2003 on July 14 , 2015.
Continue reading
Microsoft announced that the release of Windows 10 is scheduled for this summer (2015).
Continue reading