Linux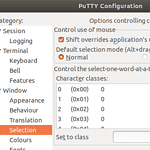 THIS was driving me batty. I have Putty running on Ubuntu which runs on an Oracle Virtualbox on a Win 10 machine. I was trying to copy and paste and getting nowhere. The solution turned out to be pretty simple
Continue reading
Determining the exact version of Linux you are running is fairly simple. Use this command to find your Linux version.
Continue reading
No tags for this post.
I have a couple of old XP machines lying around. They are old machines with limited resources. Endless Windows updates have caused them to slow to the point where they would lose a race with a drunken snail.
In many cases, Linux would run more quickly on a machine than Windows. Continue reading →