Artisteer
I was building a WordPress site where the headline and slogan were relatively long. At certain aspect ratios, the text overlapped the logo image in the header.
The solution was to add some custom CSS and to make use of the Artisteer responsive design.
Continue reading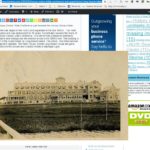 I use Artisteer to create themes for my WordPress sites. As I was testing the sites, I noticed a major issue.
The monitor I use for development is 1920 x 1080.
I revised the WordPress large image to 800 x 800 in the WordPress Media Settings.
The layout is three columns, a wide column for content and two thinner columns for navigation and ads.
I noticed that when I resized the browser to a more square aspect ratio, the image would start to overlap the two right columns. As I researched there were a lot of solutions posted about modifying functions.php and using plugins. The issue was that none of the instruction were really clear as to where to put the code in functions.php much less which functions. php to use.
Continue reading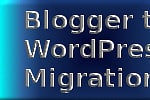 I'm in the process of migrating three sites from Blogger to WordPress including this site. The process is tedious and a little complicated, but it is manageable. Once you have physically migrated, you need to tweak the posts, categories and tags a bit. The most important part though, is to carefully apply 301 redirects to ensure that existing search listings will lead to the current content.
Continue reading
I use Artisteer to generate the templates for my Joomla, WordPress and Rails sites. I put together a Ruby on Rails site and it was not responsive. I dusted off some memory cells and remembered that there was a line in the layouts/application.html.erb file that needed to be changed. A file comparison with the same file from an app that was responsive pointed me in the right direction.
Continue reading
I was creating a Ruby on Rails site and used Artisteer 4.3 to generate the template.
Continue reading
Yes, I know.. Tables are deprecated.. However, they can be useful in certain cases.
Continue reading
We had a bit of trouble figuring out how to modify the settings of tables in sites that use an Artisteer generated table. We use JCE as our content editor.
The solution was quite simple:
Continue reading
We use Fabrik to build forms and applications in our Joomla sites (www.Fabrikar.com). It's a great extension. We also use Artisteer to design our templates. (www.artisteer.com) . Both are excellent applications.
Continue reading
We just switched to Artisteer 4. For many of my Joomla Templates, the text was not lining up with the bullets. Instead of
* Item 1
* Item 2
* Item 3
I was seeing
Continue reading
If you use Artisteer to generate a template for your Joomla sites, you may find it frustrating when dealing with a graphical vertical menu. When you look at your site, you see your vertical menu displayed as text, not as the graphics you intended.
Continue reading