Google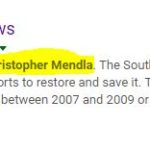 If you have a blog or site and want to brand your name, the WordPress author feature can  help tremendously. I made a simple change to my four WordPress sites and the Google Search Results changed dramatically overnight.
If you go to USER SETTINGS in your Google Analytics control panel, you can choose to have Google email an Analytics report monthly.  Most of us are on top of our Analytics daily, if not constantly but I'm giving this a shot on a couple of properties. Continue reading →
I've been resurrecting a couple of blogger blogs that I have. I had a lot of usable photos that were in Google Photos. I didn't see any reason not to upload to blogger from my google photos.
However, when I started clicking the Facebook share button on my blog posts, I noticed that not all of the images were showing on Facebook. After a bit of research, there seemed to be a link between posting to blogger from Google Photos with an account that is linked to Google Plus. Continue reading →
Many people have become dependant on various Google products including your Google Drive, Gmail, Photos and more using Google Takeout.
The process is fairly simple: Continue reading →
The deadline is rapidly approaching for Google's algo change that puts a heavy weight on a site's mobile readiness.
I have a Joomla 3.4.1 site that, according to Google Mobile Readiness Tool, wasn't mobile ready.   The tool complained about resources being blocked in Robots.txt. The default robots.txt for Joomla blocks the media folder. The tool said it needed access to the media folder. Continue reading →
There is a Washington Times article about hackers compromising the Google password system. Apparently hackers, possibly from China, gained access to the code for Google's password system. Google has reacted to this and is taking steps to increase security.
Since the hackers got access to the source code there is a possibility that they can exploit the system even in spite of any additional precautions by Google. Continue reading →
There is a discussion going on at webmaster world about google's new requirement that all sites using adsense need a privacy policy. Apparently the overpaid lawyers at the Googleplex decided that things weren't complicated enough already. They came up with a requirement that everyone post a privacy policy. If you wanted to access your adsense account, you had to agree to Google's new terms. A quick explaination can be found at http://adsense.blogspot.com/2008/02/updated-terms-and-conditions.html Continue reading →
Google's Webmaster tools has some neat new sections. One of them is a diagnostic called Content Analysis . It will show problems that can kill your rankings such as duplication in titles or descriptions.
We have a couple of blogs. Some of them are hosted at blogger and some we host. The first blog we checked that was hosted at blogger (though with a custom domain) was fine. No content issues were found. Great. Continue reading →