Windows 8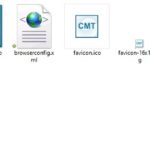 I fell into a bit of a rabbit hole. I previously had not bothered to create faveicons for my WordPress Sites. I was doing some work with the Redirection plugin and saw a lot of 404 entries for apple-touch faveicons. As I dove in I realized I should add them.
Continue reading
I have not 'upgrade' to Windows 10 yet.
I needed to update my Oracle VM Virtualbox and found that there were some compatibility issues between Virtualbox and Windows 10
Continue reading
Microsoft has announce that it will be ending support for Server 2003 on July 14 , 2015.
Continue reading
Microsoft announced that the release of Windows 10 is scheduled for this summer (2015).
Continue reading
With the end of life of Windows XP, a lot of people are moving to Windows 8.1. However, with the economy, many people are hoping to hang on to their current computers. IF your system is capable, you might be able to set up a dual boot so you can go back into XP for data.
Continue reading
A lot of people will be purchasing computers over the upcoming Christmas season. Most of the retail stores are only offering Windows 8 and are not offering Windows 7.
Continue reading
Apparently Windows 8 boots so fast that you have about 200 milliseconds to hit the F8 key- that should be good for a few laughs.
Continue reading