XP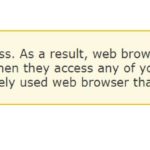 I installed an SSL certificate on a domain that does not have a fixed IP. It warned that Microsoft IE on Windows XP will give a false security warning.. REALLY?? This is 2018. Is anyone using XP?
Continue reading
Many small business networks are horrendously insecure.
The following is a basic list of things that you should do to secure your network.
Dec 2017 updates are highlighted in yellow
Continue reading
HowToGeek published and article that made me rethink Windows 10. My original objection to Windows 10 was that the home version would force updates with no opt out option. The article states that the update process would be 'like chrome'. In other words, the updates would not be the same as the current Windows update process. That might mean that the update process isn't as much of a roadblock as I originally thought.
Continue reading
Windows XP reached it's end of life last year. That means that Microsoft will no longer provide security patches. Since many users have failed to retire their XP machines, that means that hackers will attempt to exploit these machines.
Continue reading
Microsoft announced that the release of Windows 10 is scheduled for this summer (2015).
Continue reading
Microsoft released patches to address vulnerabilities in Internet Explorer, Office and Windows Server.
Continue reading
I found a post in webmasterworld about a new vulnerability in older versions of internet explorer. 
Continue reading
With the end of life of Windows XP, a lot of people are moving to Windows 8.1. However, with the economy, many people are hoping to hang on to their current computers. IF your system is capable, you might be able to set up a dual boot so you can go back into XP for data.
Continue reading
I needed to open a file in Excel 2007 on my Windows 7 machine. The open dialog would not appear and excel would lock up. If I tried to close it, I got an error that excel could not be closed.
Continue reading