Using the Author Feature of WordPress to Brand Your Name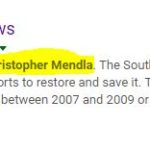 If you have a blog or site and want to brand your name, the WordPress author feature can help tremendously. I made a simple change to my four WordPress sites and the Google Search Results changed dramatically overnight.
The Situation
In some cases, you might want to brand your name. If you are trying to establish name recognition for yourself you, of course, want your name to show up on the first couple of page results edging out anything that is not related to you. Note that this applies if you have a less common name such as Christopher G. Mendla. It doesn't work as well for a name such as Bob Jones.
If you are in the job market or a consultant, people will 'Google' your name. What will they find? Try variations of the following for your name:
Christopher G Mendla (full name with the middle initial)
Christopher Mendla (full name with no initial)
Chris Mendla (Nick name and last name)
Chris Mendla 18966 (Nick name, last name and zip)
etc.
See what shows up. In my case, there were things like a site that does professor reviews with reviews from a couple of disgruntled students from 15 years ago. That might not hurt but it certainly doesn't add anything to your image.
I have four blogs where I am the author. Two are local blogs, one is this tech blog and the fourth is a general talk-about-anything blog. WordPress has a nice feature that allows you to list the author of each post. Right now, I am the only author. I have over 1000 posts between the four blogs at this point.
Establish your brand
WordPress allows you to set what shows as the name of the author of a post. If the author is an administrator, you should never use their login name. That allows hackers to know the id of an admin which makes a brute force attack a bit easier for them.
Take a look at one of your posts in the front end of your site. If your theme is set to show the author, which most are, then you should see something such as the following:
Notice that the 'By' in the post is Christopher G. Mendla
If you do a Google search for Christopher G Mendla, you see listings such as the following:
Notice that the snippet shows the author name. This is coming from the user settings in WordPress.
To change the settings, log on to the WordPress dashboard and choose Users, Your Profile:
Then scroll down to the Name section. Enter your first and last names the way you want them to show in WordPress and the search listings. I used my full name and middle initial since my son is also Christopher. Once that is filled out, look at "Display name publicly as". Set the dropdown to whatever you want and then save the settings. Depending on the uniqueness of your name and the ratings of your sites, you should soon see a change in the search results when you enter your name.
Similar Posts: